What's happening at Kidder? April 2018
There are always a lot of exciting things happening at Kidder throughout the year.  This monthly blogpost will give you some of the highlights and things we are excited about.
April 2018 Highlights
God has been blessing Kidder Creek the last several years with continued growth in the number of campers that are able to come learn about the love of Christ!  It's been such an honor to be a part of that growth process!  We hear over and over how kids lives are transformed here at Kidder, so it's great to have more campers.  More campers =  Greater impact.  Of course, if we have more campers, we're going to need more staff, but the problem we've run into is where to keep all of these wonderfully kind, servant-hearted young adults!
This spring we began construction on two new staff tent cabins that will be meeting a need that  for more staff housing.  These new cabins will be slightly bigger than our camper tent cabins and will have electricity (unlike our camper cabins).
Our awesome summer staff are the energy behind the amazing things happening at camp and we are beyond excited to provide some new digs for them this summer.
Check out the progress so far (we'll post completed pictures later!)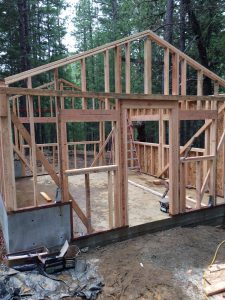 Did you know that YOU can join us in taking care of our staff by donating to this project.  Thanks for supporting life transforming adventures in creation at Kidder Creek Camp!
*After redirecting to our donation page select Kidder Creek in the drop down menu, please make your donation to the general fund.