By Zak Flowers
This year's Fall Frenzies were a great success as well as a tremendous blessing to everyone involved: students, church leaders, volunteers and staff alike as all of us took one step closer to Jesus. This year's Fall Frenzy was called Fierce: Fierce Love, Relentless Trust.
Continued from Newsletter
We were looking initially at Psalm 20:7, "…but we trust in the name of the Lord our God," and then expanded off of it to focus on God's fierce love for us and how that drives us to relentlessly trust in Him. Each day we looked at a different aspect of this in our objectives: God loves us with a fierce love, God's fierce love calls us to ruthlessly abandon doubt and relentlessly trust Him, and we can stand firm in God's fierce love no matter the circumstances we face.
With this idea of God's fierce love and our relentless trust in mind, we decided to embody that in the style of Vikings! It is because of God's fierce love that we are able to relentlessly trust him through the storms that we face. Who better to use to bring that to life than ferocious Vikings that constantly faced and persevered through storms by trusting in each other and most importantly their captain? Thus, we transformed Ponderosa Lodge into a Viking village filled with boulders, ropes, shields, furs, weapons, and even a Viking ship in the forum.
The "Fierce" mentality did not just stop at the set and look of Ponderosa, no no no. It was in everything that we did, especially the games and activities we played. One of the most enjoyed games was our night game called Lost at Sea: Snorri's Family Reunion which brought campers and church leaders into the world of the theme skit as they searched the lodge for items, corresponding to their own team's role on the ship, that had been lost during a fierce storm. Whilst doing so, they had to avoid Snorri's family (a main character in the skit who was a very boisterous operatic Viking) for when they saw campers they began singing loudly which attracted sea creatures that could affect their small group negatively.
These weekends were transformational. Time and time again we saw God's faithfulness, the power of the gospel, and His fierce love in student's reactions and the stories of students taking one step closer to Jesus. One junior high student wrote this on their evaluation of one thing they learned this weekend:
"This week, I learned that God loves me with an unmatched love and that In return, I need to learn how to trust in him relentlessly."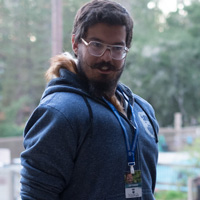 This is but one of the hundreds of stories of students taking one step closer to Jesus that God created over these weekends at our Fierce Fall Frenzies.
Zak Flowers is currently serving as one of our Youth and Young Adult Ministries Interns. He was worked several summers at Mount Hermon in Conference Center Youth and at Echo.