Growing up in the Anglican Communion, I spent most of my hours in church coloring.  Liturgical church is far from kid-friendly.  People use funny words, they bow and kneel without warning, and sometimes it smells as though something is burning.  But now, after I have matured (ha!), I find so important that which each service symbolizes.  
Here is a quick reference to the services of Holy Week — I wish that more churches would recognize the importance of a season leading up to Easter.  I long for this time of year!
Palm Sunday: Celebrates the Messiah's entry into Jerusalem, and the beginning of Holy Week.  We would begin the service outside, process around the church and then into the sanctuary singing hymns.
Tenebrae: is the Latin word for darkness or shadows.  The service is often celebrated on Wednesday evening.  Burning candles are distinguished one by one as Scripture is read until the last candle (the Christ candle) is extinguished leaving the church in total darkness.  The congregation exits in silence and in darkness without a benediction.  The service is intentionally left unfinished because Christ's story is incomplete until the resurrection.
Maundy Thursday: celebrates several events, most notably the last supper with Christ and the Apostles.  After the service, there is commonly a feast served while the altar is stripped of all devotional items.  Large items such as statues are covered up and hidden.  The bells of the church are rung and them remain silent until the Easter Vigil.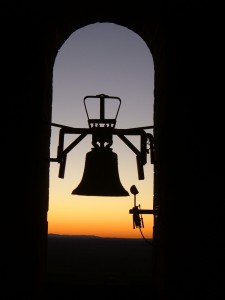 Good Friday: remembers the death of Christ at Golgotha.  It is customary to remember the Stations of the Cross and pause at each station to reflect on the scene with an anthem or reading.  This is a very somber service.  
The Great Vigil of Easter: is my favorite service of the year.  Even just writing the words gave me the tingles.  This service marks Christ defeat of death and victory in the resurrection.  The service begins in darkness around a small fire outside.  The new Paschal candle is lit and the congregation follows as it is brought into the sanctuary.  After Scripture is read, the lights come up and the congregation proclaims "Alleluia!" — the first time since Ash Wednesday.  The organ sounds with a joyful hymn, and the congregation celebrates with the first Eucharist (communion) of Easter.  
This stuff gets me pumped.  It makes me feel like doing this…
I love it.