An Adventure Two Decades in the Making
It's been quite the journey
The new Sequoia Aerial Adventure is the culmination of an adventure story that I started twenty years ago. I'm thrilled to share a part of my journey with you and excited for your story to include a Mount Hermon chapter.
1995: I graduated from High School, and like most graduates didn't have too many ideas about what was next. College, sure, but beyond that the horizon looked far away. That fall as a Freshman at a small liberal arts college in Oregon I experienced my first "ropes course." I put on a harness, got tied into a climbing rope, and ascended a big Douglas Fir tree only to jump off a tiny platform and attempt to catch a trapeze bar. It was terrifying, it was exhilarating, it left me wanting more.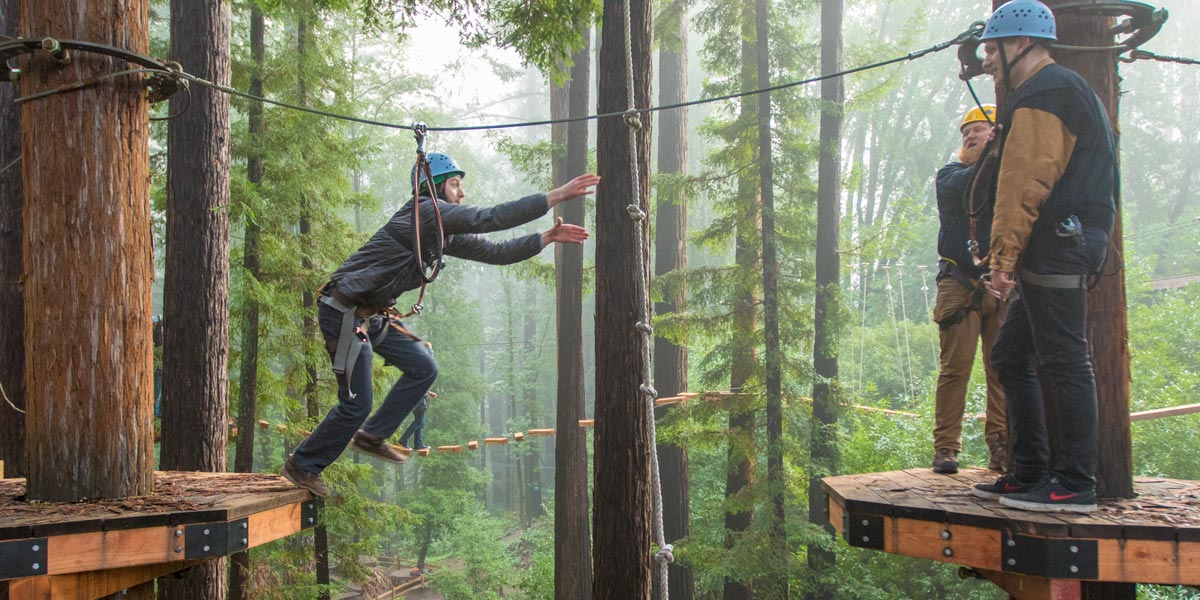 1998: I was encouraged to apply to be a Resident Assistant for the Freshman dorm and given the job. Part of the training was a one week "Walkabout" in the wilds of eastern Oregon. We'd hike, climb, melt snow for water, watch a bear eat most of our food, evacuate a teammate with a torn ACL and eventually get chased out of the woods by a huge wildfire. It was harrowing and exhausting but created some of the deepest friendships I've ever experienced. How could you grow so close so quickly?
2000: Graduated and newly married my bride and I embarked on a career of leading people through all sorts of experiences outdoors. Ropes courses, bike trips, backpacking, rock-climbing, rafting—it was all fun but the most powerful part was watching people's lives be transformed by adventure. Something about challenge and support, difficulties and real success left people with a better idea of who they were and what was really important.
2010: Mount Hermon Adventures is formed, taking the Redwood Canopy Tours that had been operating since 2008 and surrounding it with other adventures and programs. People from around the world started coming to see the majesty of the redwood forest from the perspective only a zip tour can provide. Along the way people overcame fears, laughed deeply, and connected with friends and strangers.
What I saw happen on long trips in the wilderness was happening in a two hour experience seven miles from Santa Cruz!
2016: People were hungry for adventure, looking for new experiences beyond the screen, and excited to direct their own adventure experience in a unique way. Sequoia Aerial Adventures is born by taking the existing Sequoia Adventure Course and adding 20 new activities and the free-fall experience known as the quick jump. A new way to experience the redwood forest, an aerial adventure combines balance and partner challenges high above the forest floor. Like the "ropes course" of 20 years ago it is terrifying, it is exhilarating, it leaves you wanting more—and it has more with 30 activities of increasing challenge even the most hearty adventurer will find something to challenge themselves.
Come experience for yourself an adventure decades in the making. Sequoia Aerial Adventure will become an exclamation point on your journey of adventure! Grand Opening March, 12th and accepting reservations now for all of 2016.