Confusing equation?  Let me explain:
Nike+ is the coolest pedometer I've ever owned.  Although it is the only pedometer I've ever owned, I can't imagine one being any cooler.  Here are some reasons why:
1. Goals (aka motivation)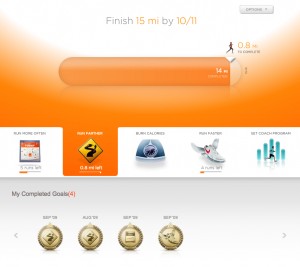 You can create a goal to run more often, run faster, run farther, or burn calories.  Once you complete your goal, you receive a medal (they're fake) to remind you of your progress.  Plus, if you close your eyes, and cue up the Star-Spangled Banner you're pretty much in the olympics.
2. Coach (more motivation)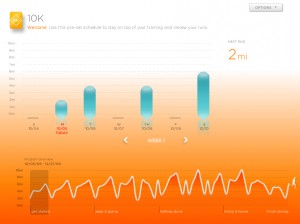 Coach is very cordial, and doesn't yell at you when you miss a run.  Instead, coach plans a course to guide you toward the distance of your choice.  Thanks to coach, In 12 weeks, I'm going to dominate a 10K race… actually, 12 weeks from now is Christmas, so I'll likely be wearing pajamas, slippers, an ugly robe, and sipping cider from a rudolph mug.
3. Challenges (in other words, motivation)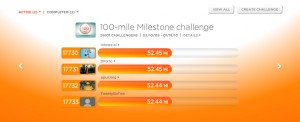 You can challenge all sorts of people.  You can challenge people all over the world, or create your own that friends can join.  I'm halfway on this challenge to run 100 miles, which puts me in seventeen thousand seven hundred and thirty second place.  Victory is within reach.
4. Your very own Smurf (you might call it motivation)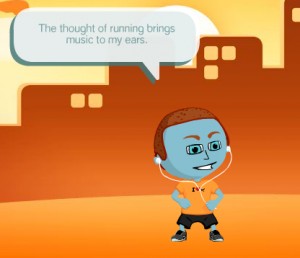 This little cheerleader does backflips when I run, and snores on the couch when I don't… my co-worker pointed out that he doesn't really look like me because my hair is not that shade of brown… that's right, my hair shade is what stuck out to her.  Just so you know, I'm also not blue.
If you are a runner, or an aspiring runner, I highly recommend Nike+.  Check it out, and if you join… let's challenge!