BLOGGER: JESSE FLOREA
Editor, Clubhouse and Clubhouse Jr.
Major Morning Track Instructor, Magazine Writing: Starting Point or Destination?
Reviewing Pre-Submission Manuscripts for Editorial Review and Meeting with Writers.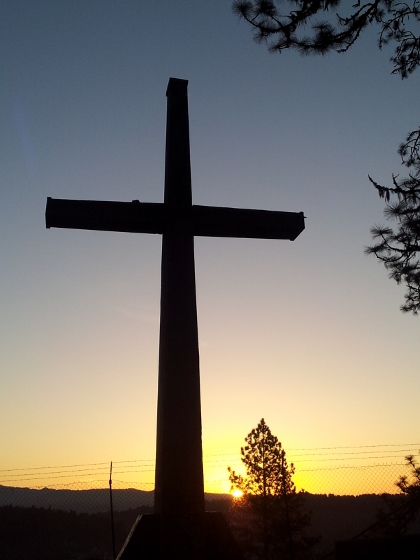 AT THE CROSS
There's a reason Mount Hermon Christian Writers' Conference occurs during Palm Sunday every year. And it's not just so David Talbot can lift our spirits to heavenly realms during the annual service on Sunday morning. This conference is truly focused on Christ. And nowhere is that more evident than during the predawn hike to the cross.
If you don't mind waking up early and can put a pause on personal grooming (I, for one, never shower), you can't miss this adventure. Just learning more about Mount Hermon as you wind up the roads would make the hike worth it. But the relationships and conversations you have with other participants makes it even better.
Walls don't seem to exist at 6 a.m. And there certainly aren't any walls as you walk through the redwoods. The conversations go deeper. Yes, there's talk about craft, writing experience and comma usage (well, not so much that last one). But you also learn about the other person's family, passions and hopes. And the coolest part is that you're walking alongside some of Christian publishing's best.
If you're worried about the pace of the hike and elevation gain, don't be. You need to be in decent shape, but everybody sticks together and encourages each other along the way. And while it feels like you're climbing a lot, Mount Hermon tops out at 584 feet above sea level. (My house in Colorado Springs is at nearly 6,800.) As further motivation, you can remember that with every step you're getting closer to the cross—which is what Mount Hermon is all about.
This writers' conference is designed for you to grow closer to Christ. At the same time, it's also set up for you to network with other writers and the faculty. Take advantage of one-on-one appointments, critique sessions, night-owl meetings, meals and general sessions to talk with people. Writing can be a lonely business. Usually, it's just you, a keyboard and a blank screen. Use your time at Mount Hermon to connect with people who share your love for the Lord and build your writing network. And sometimes connecting means losing a little sleep and getting a little exercise.
Oh yeah, one last tip for the hike: Always bring a hat.
________________
Come meet Jesse Florea at the Mount Hermon Christian Writers Conference in March.