by Marci Seither
"Are you going to the Mount Hermon Christian Writers conference this spring?" I asked Susan Gregory one day. I had volunteered to give her a ride to an event, and as we rode together we found out we shared a love of writing.
She told me it wasn't in her budget but she hoped to attend one year. Despite having a book that she would love to see published, it seemed like her dream was beyond her reach.
I knew the feeling of having something you dream of doing, and even feel called to do, yet not seeing any way it could happen.
The first year I decided to attend the Mount Hermon Christian Writers' Conference I taught swim lessons and worked as a lifeguard all summer, putting the money I made into a mason jar designated for conference tuition. I knew it would take a lot of planning and sunscreen to pull it off.
My husband gave me money toward tuition in lieu of Christmas and birthday gifts, adding to my mason jar. I did a photo shoot for a friend, and in return, she surprised me by putting cash into my Mount Hermon fund. I managed to collect enough to attend the conference. I did the same thing for a few more years after that.
"Let your family and friends know you have a big dream," I told Susan. "And start a conference fund for yourself."
When we got to our destination, she handed me money for gas. I gave it back to her. "This is the first deposit in your conference fund."
Eighteen months later, Susan's face beamed as she walked down the redwood-lined path at Mount Hermon. "I made it!" she exclaimed. "I'm here because of the Conference Fund! It took a while, but the money you gave me became something that grew."
I recently saw Susan's newly published book, Slender Reeds, being shared on Facebook. It is beautiful. And it really was a dream come true.
I later heard about a young mom named Jenni who felt led to write but didn't know where to start. Her friend encouraged her to set up a GoFundMe account in order to attend the Mount Hermon Christian Writers Conference. A GoFundMe account is a way for people to tell others what they need funds for and why. Instead of giving gifts or stocking stuffers, people can add funds to that person's project. Many of Jenni's friends helped support her and her dream of reaching others through her writing.
I'm not saying that if you just set a mason jar on the counter all your dreams will come true. That's not realistic. But sharing your goals with others allows them the opportunity to partner with you in something worthwhile.
Pride can make us dream hoarders. Humility allows us to be vulnerable and share our dreams with others.
Do you have a big dream? Are you among the 81 percent of Americans who would love to write a book but just need the courage, and maybe a nudge, to put action to that dream?
Why not set up a mason jar conference fund and see what happens?
For more information about the Mount Hermon Writer's Conference, click here.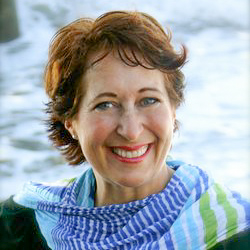 Marci Seither has written hundreds of feature stories, op/editorials, and human-interest articles for local papers as well as contributing to national publications. She has been married to her husband almost 30 years and is mom to six amazingly rowdy kiddos who have provided her with volumes of great material, loads of laundry and symphonies of laughter. Marci encourages others with humor that packs a punch and entertains other moms with her Urban Retro style. She recently had two books published and knows how to make marshmallows from scratch. Marci is an airport shuttle assistant for Mount Hermon Writers Conference.